Families With Young Children
HBT has so much happening for Families With Young Children including our monthly Shakin' Shabbat led by Rabbi Barbara Penzner, family services on Saturday mornings, special events and community gatherings. These programs are for families with children age 6 and under are, and older siblings are always welcome!
Parenting Through a Jewish Lens
Parenting Through a Jewish Lens (PTJL) is coming to HBT this fall, November 3, 17, December 8, 15, January 5, and 12, 2020
In PTJL, parents of children ages 0 -10 years and teacher, Rabbi Barbara Penzner, will come together in a small group settings, to share the "joys and oys" of parenting, and learn from Jewish wisdom that can enrich their families. Class runs on Sunday mornings during religious school, starting November 3 from 10:00-11:30 AM. Click HERE for more information and to register.
Family Shabbat Service
2019 - 20 Saturday morning dates
November 9,February 29,March 28, April 11
Service: 11:15am - 12:00pm
followed by Kiddush luncheon and schmoozing with the entire congregation.
A Shabbat morning Family Service geared for children Kindergarten-3rd grade and their parents. Older and younger kids, and young-at-heart adults are welcome too. This interactive service, led by Rabbi Barbara Penzner, offers families a "step up" from our monthly Friday night Shakin' (Tot) Shabbat program. School-age children can explore Torah stories, help lead prayers they have been learning in Chaverim School, and experience the sacredness and joy of Shabbat morning together in community. Parents can become familiar with the flow of a morning service and gain comfort with the prayers and singing. This short, accessible service will be followed by a kiddush lunch with the rest of the HBT congregation. Please arrive by 11:15 so that we are all together for an uplifting community experience.
Purim Carnival
March 15, 2020
11:30 am ages 5 and under
12:00 – 1:30 pm Open admission
Purim is fun for everyone! Games, prizes, bouncy house, face-painting, and hamantashen for everyone. Following Chaverim School. Come in a costume that reflects this year's theme, or any Purim costume will do.
Shakin' Shabbat
with Rabbi Barbara Penzner
Friday evenings 5:45 pm–6:15 pm
September 13,followed by community cookout
October 5, followed by pizza dinner
November 15, followed by pizza dinner
December 6, followed by pizza dinner
January 3, followed by pizza dinner
February 7, followed by community dinner & game night
March 6, followed by pizza dinner
April 3, followed by pizza dinner
May 1, followed by pizza dinner

Shakin' Shabbat is our monthly musical, interactive family program for parents with young children 6 & under. Come to dance, sing, celebrate special moments with your child, have story time, and joyfully welcome Shabbat together. Led by Rabbi Barbara Penzner, this short, fun service is accessible, free, and followed by either a pizza dinner or an HBT Community Dinner.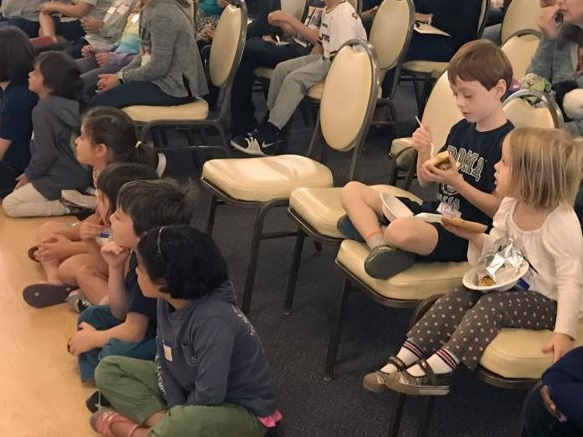 SHIRAT SHABBAT
(same Friday nights as above)
Join us as we try a new Friday night service aimed at children who have aged out of Shakin' Shabbat, especially those in grades one through five. We'll welcome Shabbat with songs and a little bit of learning.
Parents are welcome, though it's ok for older children to join in without a parent. At the end we will all meet to hug the Torah together and share a meal.
*Shirat Shabbat means "singing Shabbat" in Hebrew